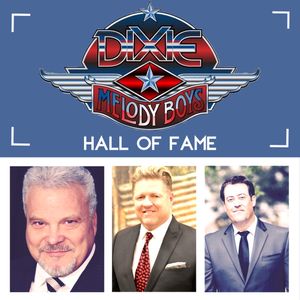 (November 13, 2019, 2019) The Dixie Melody Boys have announced they have inducted Derrick Boyd, Jamie Caldwell and Matt Felts into their Hall of Fame.
Derrick Boyd was a key part in the most successful era of the groups rich history. He helped make songs like "Glory Cloud" standards in Southern Gospel Music. Matt Felts helped usher in a new era for the group, helping to bring them back to the top of Southern Gospel. Jamie Caldwell introduced "Antioch Church House Choir," a DMB classic, to a whole new audience with his performance on the Gaither Homecoming Series. Each of these inductees made a huge impact on the group.
The Dixie Melody Boys Hall of Fame honors some of the many incredible artists that have come through the group including Rodney Griffin, Harold Reed, Tony Brown and many more. To view the Hall of Fame and also see where the Dixie Melody Boys will be appearing, go to www.dixiemelodyboys.com.